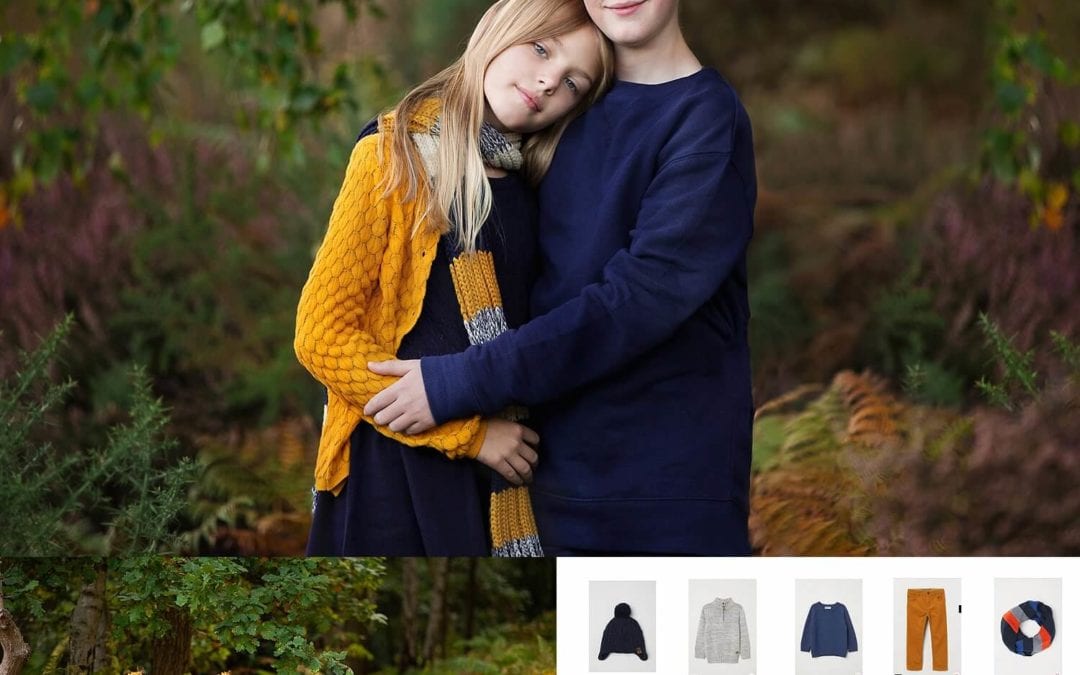 5 tips to help you create beautiful autumn family photography
As we head into Autumn I get especially excited about photographing families outdoors and I wanted to share some of my top shooting and session preparation tips along with images from a collective of fantastic UK photographers to inspire when you go out and shoot yourself.
Tip 1 : Schedule your session when the light is best
With the evenings closing in, golden hour is getting earlier (currently the sun is setting around 6:20pm in the South). This is great news as this allows families with younger children to meet for photo shoots without majorly disrupting their bedtime routine.  I am now starting my family shoots now around 4:30pm so families have time to go home after school, change, have something to eat and then meet up.
Also, don't forget when scheduling your shoots the clocks change on the Sunday 28th October so you will need to start an hour earlier!.
To check sunrise and sunset times visit Sunrise-and-sunset.com  
Tip 2:  Help your clients with simple visual what to wear guides
Ahead of my Autumn mini shoots, I give my families a visual guide of what colours work really well against an autumnal backdrop. I have Pinterest boards available (you can see my board here) and new for 2018 I have created a 1-minute inspiration video via Animoto.
I lean towards blues, yellows, burgundy and brown as I like a strong contrast pallet in my imagery. I also find that these string complimentary colours print really well in the final product.
P.S If you would like to trial Animoto and save up to 50% on a professional subscription, please drop me a message via the contact form at the end of this blog and I will be in touch
Tip 3: Scout your locations ahead of time and take test shots
Locations can change very quickly (especially here in Surrey), A lot of our woodland is managed and I have returned to locations to find key backdrops I have used completely changed.
What I like to do is head to the location a few days before the shoot itself, at approximately the same time, so I can asses where I will shoot in what order. The location I am currently favouring loses the light at the bottom of the valley early and around 5:45pm we have to move onto a second area which is much higher up.
The shots on the right hand side are my test shots taken on the 70-200 2.8 so I can get a real feel of how the final images on my shoot will come out.
Tip 4: Whilst shooting think about how the images could be displayed
Finally when shooting think about the variety of images and the mix of landscape and portrait images that you are shooting (or shoot wide enough that you can crop to portrait if needed).
Chat to your clients before your shoot about where they envisage the images being up in their home. If you are passionate about albums for example then this can change how you shoot on the day knowing that you might be looking for images that sit well as triptych storytelling images across one page.
My supplier of choice is Digitalab and they have been working very hard behind the scenes to develop new tools to help clients visualise their images on display (as an example the image on the right). To be the first to hear when they launch this new service visit their Facebook page here. 
Tip 5: Watch the following video for autumn photography inspiration!
There are so many incredible professional photographers in the UK and I am lucky to have a lot of them as part of my online community (if you would like to join visit here). 
I find seeing other photographers images of the same season incredibly inspiring and here are examples using different light, styling, composition and different lenses.
A huge thank to all of the photographers who contributed – if you would like to go and look at more of their work their websites are below.