The step-by-step SEO masterclass that revolutionises your site's visibility and attracts more of the
clients you really wan

t
SEO. The three little letters that often strike fear into the heart of any photographer. How do I do it? What's it for? Do I really need it? The answer is yes, you do. You can have the most beautiful website in the world but if nobody can find you, there's no point even having one. SEO often falls to the bottom of any to-do list, and that's where this Bootcamp can really help. 

Join the hundreds of photographers who have already seen their business bloom under Nina's guidance
Since mentoring with Nina, my SEO has improved dramatically. My website went from being on page 6+ of a Google search to jump to first place! This is something I would never have been able to achieve, without Nina's guidance and support. She talked me through how to monitor my SEO through WordPress and suggested ways of maintaining my position. If you need help with your SEO, or are new to websites and need some guidance, I highly recommend getting in touch with Nina. She is definitely the SEO guru!
Before I trained with Nina, I had no idea what SEO was and how this affected my website. Since working with her,  I am able to easily keep on top of my SEO and have a clear understanding of what is needed to make my website visible.   I am still working on my SEO but I am now ranking top 5 and am aiming to get higher.  I now get so excited when I know my pages are working their hardest for clients and SEO!
Claire
Claire Wilders Photography
As part of Nina's 12-month mentoring programme, we focused on my website visibility and SEO position. I have to admit it was all new to me but she explained it in such a simple way and gave me specific tasks to deliver each month and as a result, my website is now on the first page of Google. I am also clear what are the most important tasks to focus on going forwards so I no longer waste time.
Gill
If working on your SEO is always the last task on your list, this program was created for you.
Nina's SEO for photographers course is absolutely perfect for you if any of the following sound familiar.
"What even is SEO? Some sort of nautical term..?
The world of websites and SEO for photographers' websites is an alien language to you. You'd like a crystal clear, structured course. You'd like to have someone on hand all the time to answer any questions you have, no matter how silly (hint: there's no such thing as a silly question when it comes to SEO).
"I know some things but not all of the things…"
You have a mid-level of understanding of some of the areas you need to work on in order to reach the summit of Mount Google. You might feel a little overwhelmed: what should you be working on? And in what order? And have you missed something? I can answer all of these questions and more.
"I know my stuff but never get round to doing it!..."
You're well-read on the subject and know your meta from your Yoast BUT you struggle to find the time you need to do it well.  You have a million blogging ideas but just never get around to writing them.
You want to be part of a team that will push you to get it all done.
Over eight weeks, you'll collect the skills, strategies and tools you need to start climbing Google. You'll have hands-on support from Nina every step of the way. She'll set you tasks, keep you motivated and inspire you to GET IT DONE. 
EVERY TWO WEEKS, NINA WILL PRESENT LIVE TO THE COMMUNITY. SHE'LL OFFER TRAINING ON SPECIFIC AREAS AND SET EASY, EFFECTIVE TASKS FOR THE NEXT TWO WEEKS.
IF YOU CAN'T ATTEND LIVE, THE MODULES WILL REMAIN AS UNITS IN THE GROUP ACCESSIBLE TO YOU WHENEVER YOU NEED THEM. 
Private Facebook Community
FOR THE ENTIRE EIGHT WEEKS, YOU'LL BE A MEMBER OF A PRIVATE COMMUNITY ALLOWING YOU TO ASK QUESTIONS AND SHARE YOUR WINS AS WE PROGRESS TOGETHER.
NINA (AND HER NETWORK OF TRUSTED EXPERTS) WILL BE AVAILABLE FOR CONSULTATION EVERY DAY MONDAY TO FRIDAY.
A Team of photographers behind you!
Nina has seen first hand the power of having a community to support business growth, so you will work alongside other photographers who have got your back.
From sharing content ideas, to cheering one another on, this course will utilise a team's power to keep everyone focused.
"But, I'm worried I have bought courses before and never got round to doing them! 
We have all done this (including Nina) so this is why the new course has been developed slightly differently. The winning combination of live sessions, private Facebook groups, support from your fellow members plus two weeks to work on each module means it's easier than ever before to get the most out of this bootcamp, while still working full time as a photographer. It's designed to fit into your schedule.
Hi there! I'm Nina
The photographer behind the SEO for photographers Visibility Bootcamp. I'm recognised throughout the industry as one of the very best people to turn to for photographer training and mentoring for both aspiring and Professional Photographers (I was even named as top Professional Photographer Trainer in the UK by the SWPP). I've helped hundreds of people with passion grow their brands, find their ideal model in their chosen industry and clear a path towards running a small business in a way that works for them.
I have managed my own website and SEO for a decade now – If you want to check me out just search for "photography mentor".
" I rank 1st for close to 100 target keywords and now I want to help you to do the same"
Module 1 – Keywords and Tracking
Really understand the nuts and bolts of website and google business and why it affects your visibility
Understand HOW to choose and learn which keywords to focus on – SEO for photographers is a specific niche that Nina knows all about. 
Getting to know Google Business and why it's important for your local SEO 
Setting your website up for SEO success – what do alt text and meta descriptions really mean?
Get acquainted with

YOAST

(if you're on WordPress) and learn why it's so useful
Tracking your SEO position for free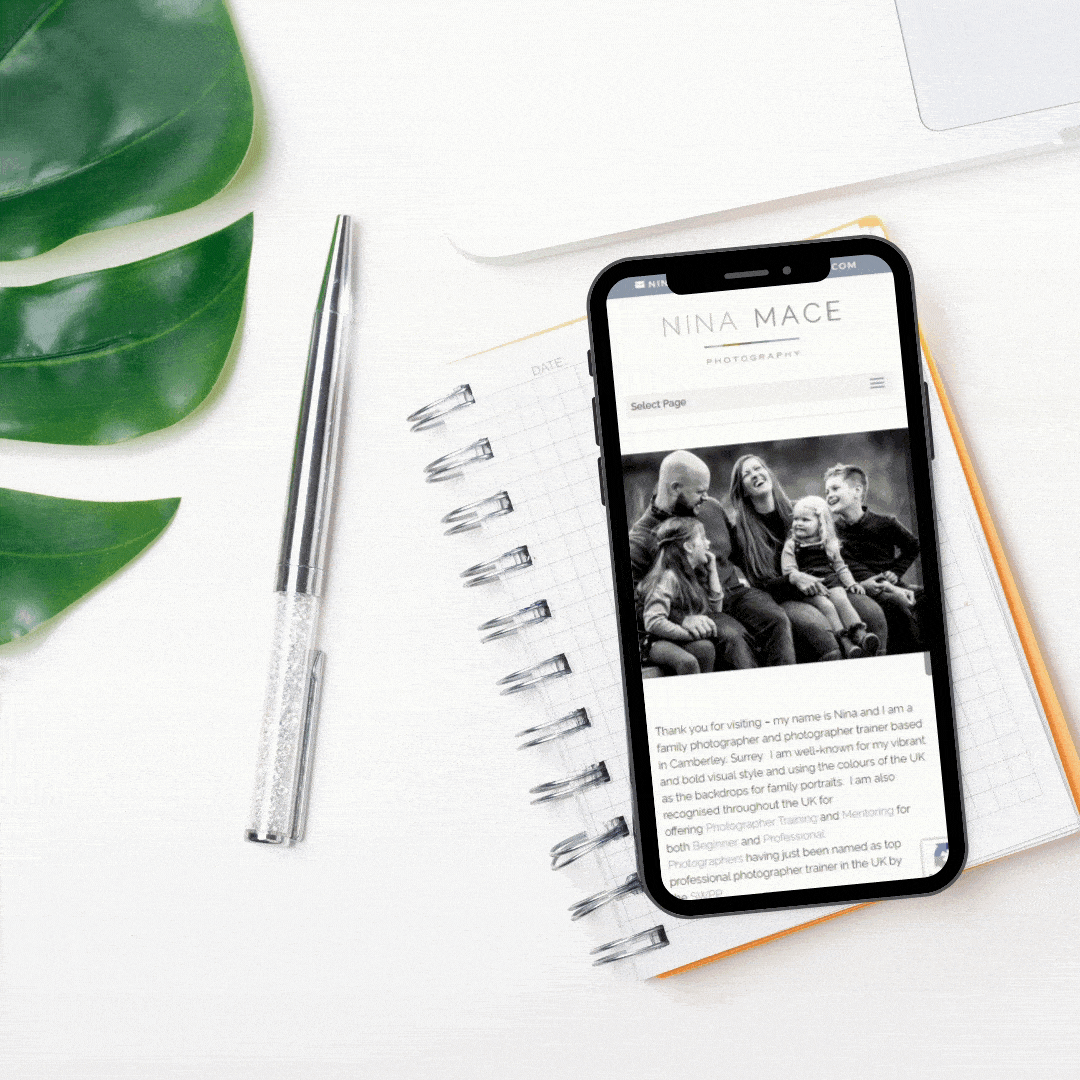 Module 2 – Site structure & your clients journey
Learn to review your website objectively, so it is amazing for both your clients and great for your SEO
Understanding how your website structure impacts your client's journey and therefore your SEO
Simple ways to improve the SEO scores on your page
Get

free plug-ins

that give crucial insight into what your potential clients are really interested in
Benefit from

live Q&A sessions

on site structure
Learn about

Fetch as Google

– a Google Search Console feature that allows you to simulate how your published web page looks to Google. Learn how to set this up and how it can be a total game-changer.
Module 3 – Website authority
Learn how Google uses signals to decide how relevant your site is when clients are searching.
Get to grips with

backlinks

and understand their impact on your visibility
Equip yourself with

strategies

for getting real and valuable links to your website
Take our

14-day challenge

to create backlink opportunities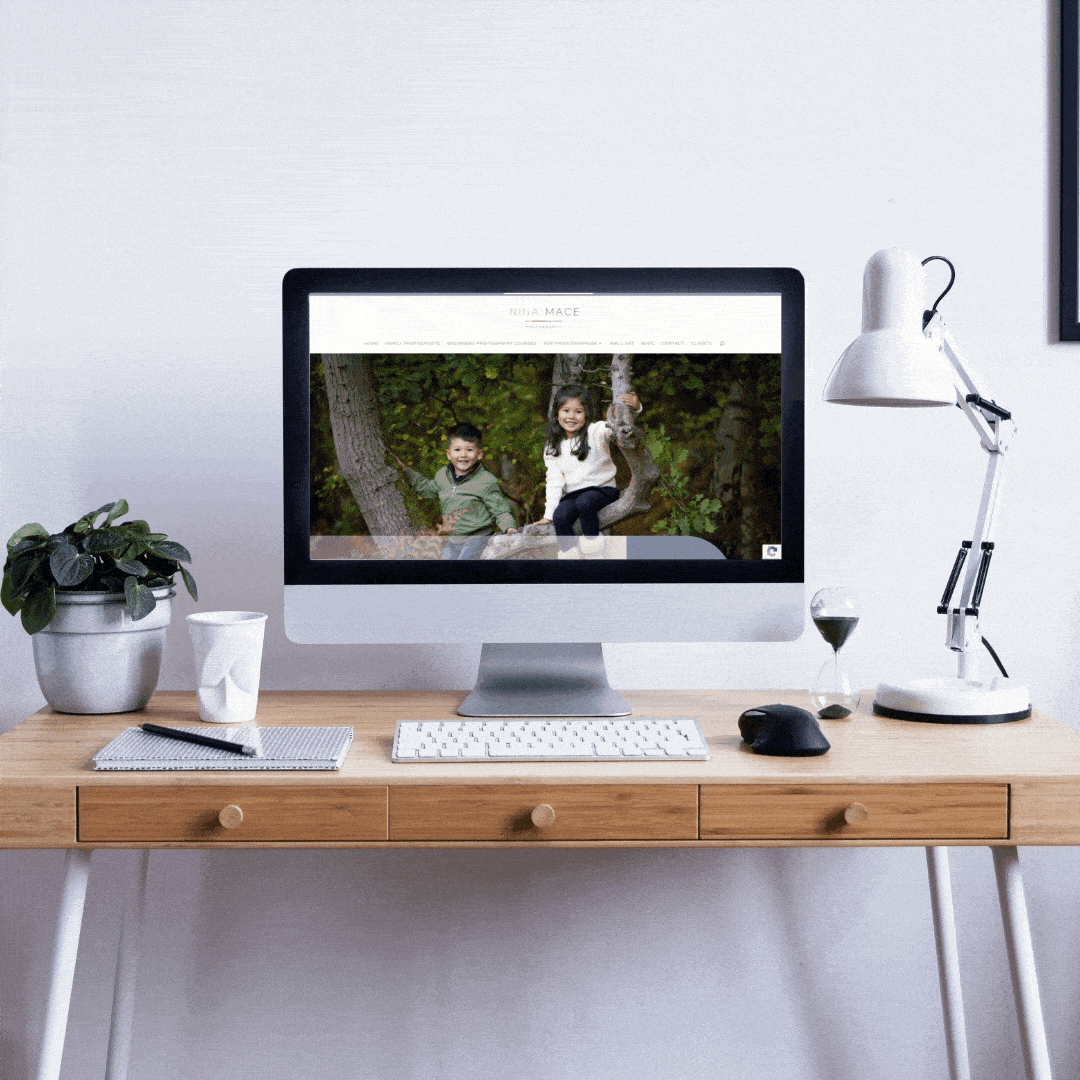 Module 4- Blogging for SEO success
A comprehensive education in effective blogging. You'll learn all there is to know about the art form and build a blogging plan that works for you.
Learn what makes a

great blog

and how to execute a great topic that your clients will be keen to read
Discover

'evergreen blogs'

and why they work so well
Brainstorm ideas for how to

create micro-content

for all your socials using your blogs
Get your head around

Canva

and how to use it to make your content look incredible
Meet copywriters

who can write you some irresistible content (if you need them)
Take our

14-day challenge

to create and share some amazing new content for your brand
"By the end of the 8 weeks, you'll have a complete & thorough understanding of the world of SEO and it will no longer seem like a foreign language.  This is so much more than an online course: it's a hands-on, practical workshop which will revolutionise your business."
join the waitlist for the next bootcamp
I am currently running the SEO course with a number of amazing photographers – Once the Bootcamp is closed I will announce my next course date. To be the first to know please complete the form below. 
JOIN THE WAITLIST FOR THE NEXT SEO COURSE FOR PHOTOGRAPHERS
What exactly will i get when I purchase?
The day before the course begins, you'll be sent a link to the private community. You'll also be sent a calendar reminder of the four live session dates so you can pop these in the diary. Live sessions will take place at 7pm GMT but will also be recorded and kept as units within the group so you can access them at a time that suits.
Can I join this course if I am a Trainer or Mentor myself?
This SEO for photographers course is for personal use only so I am afraid anyone who mentors or trains in business or marketing , or who plans to in the next 2 years, is unable to attend.
What exactly will i get when I purchase?
The day before the course begins, you'll be sent a link to the private community. You'll also be sent a calendar reminder of the four live session dates so you can pop these in the diary. Live sessions will take place at 7pm GMT but will also be recorded and kept as units within the group so you can access them at a time that suits.
I don't have a lot of extra time - how long will this take?
We totally get it! It's hard running a photography business while keeping on top of your admin, marketing and life stuff. This is why there are two weeks between modules so you can plan time into your diary over those fourteen days to deliver what we discuss in each module.
Do i need to be on a wordpress website?
Having a WordPress site is ideal but all the principles of the modules apply to all websites, including Squarespace, Wix etc.
When does the course start?
The SEO for photographers course begins on the first Monday after the Easter holidays. The live sessions take place on a Monday evening but are available for rewatch for the entire 8 weeks.
What is it like to work with Nina?
Nina is an experienced Surrey family photographer and you are in safe hands.
She will make sure the shoot is lots of fun and will have considered the best location for you and your family.
What if you need to cancel?
Once you've committed to the course, refunds will not be available. But please note: if you are unwell with Covid, the course content remains in the group for six months so you can catch up at any time. Full terms and conditions can be found here but if you have any questions, please feel free to ask.