Outdoor
Editing Workshops
I'm recognised throughout the industry as one of the very best people to turn to for photographer training & mentoring for both aspiring and Professional Photographers (I was even named as top Professional Photographer Trainer in the UK by the SWPP).
I've helped hundreds of people improve their outdoor editing, and have watched with excitement as they have seen major growth in their images and style.
If you want to learn to edit quickly and take your images from great to wow, then keep reading while I tell you all about my online outdoor editing workshop.
When it comes to editing outdoor images we need to embrace the ever-changing backgrounds & know how to address some of the challenges this brings. This is why on my 3 week editing course we cover:
Colour casts, different exposure levels, cluttered background, large families with members that 'blink' before we start adding wow to our edits I cover all of the usual editing challenges from shooting outdoors. From dealing with green colour casts to head swaps I will teach you everything you need to know to get your images exactly as you want them!
One of the main advantages of photographing families outdoors is the incredible colours – I like a popped colourful style & I share how I achieve this but I can also advise on more muted tones, cool greens, whatever colour tones you are looking to achieve. Over the weeks we aim to get you to your ideal editing style & we can even create your own presets!
Do you see those hero shots on other photographers' Instagram and wonder how they create that pop or light? Maybe how they have such an incredible sky or the subjects look beautifully lit? We dive into what you can now do in Lightroom/ ACR and then how you can use Photoshop quickly and easily to take your images from good to next level wow!
What happens over the 3 weeks online?
Learn how to process your photos in ACR or Lightroom getting your WB, contrast and histogram perfect! I will also take you through the new masking tool which allows you to take your images so much further than ever before and then sync across all your images from that shoot. You then have a full week to practice everything we have learnt in our private Facebook group before we move into Photoshop
Week 2 is all about Photoshop – we take the images you have edited in ACR or Lightroom and then see what more we can add in Photoshop to really knock your client's socks off! We look at light, curves, changing colours, replacing skies you make it!
After another week of practice, we have 1 final live Zoom session to answer any additional questions you might have or if you wish me to demonstrate any of the techniques again. All of the videos and worksheets then stay available for 6 months in the private FB group for you to look back at any time.
Details of my next outdoor editing workshop
June 1st, 8th & 15th
Each zoom is approx 90 minutes
Online
3 x live zoom sessions at 7pm which are immediately available to re-watch 
£299
£99 deposit to secure your place – remainder  due 4 weeks before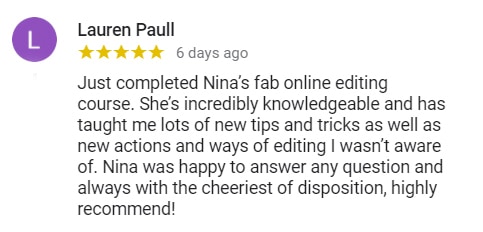 Sounds like the training for you?
You can either book online today or send me a message with any questions which I am more than happy to answer (including if you want to add your name to the waitlist for upcoming dates)
Before and after edit from a photographer on my course 
You might also be interested in these workshops
Outdoor family photography 
Outdoor Dance Photography
Nina's family photography has been featured in :